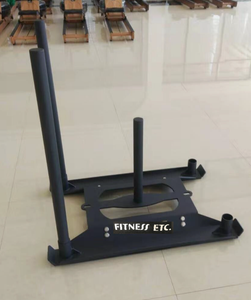 Product Details
The Crossbox Power Sled / Dog sled is compact, mighty, and versatile enough for push, pull and speed training on almost any surface, Improving your body's ability to maximize its use of the anterior and posterior chain systems.
Benefit from Crossbox Power Sled / Dog Sled Workouts
If you are involved with a sport which relies on quintessential power (i.e. all sports) a Crossbox Power Sled / Dog sled workout will be a terrific addition to any strength and conditioning program. Since every repetition involves whole body coordination and an explosive contraction, power sled exercises can be very similar to the motions of certain sports. A strength and conditioning program needs sports specific exercises and the power sled can be used in many ways to mimic the activities of every sport.
Achieve a Variety of Health and Fitness Goals
Crossbox Power Sled / Dog sled exercises can not only help you train for explosive power. You can train for strength, stabilization and balance for your entire body.
Power Sleds are versatile enough that you can use them by themselves for dynamic Power Sled workouts or along with other classic forms of resistance like free weights, body weight, or cables. The Crossbox Power Sled / Dog sled has a 2" post to allow for increased challanges by adding olympic weight plates, it also has 35" upright push bars designed to accommodate both high and low push stances.
Exercise Anywhere
All you really need is about 20 yards of relatively flat ground. You can use the Crossbox Power Sled / Dog sled on grass, Astroturf, field turf and track. If you do not usually perform outdoor workouts a sled workout outside in the beautiful weather will be a great experience which may rejuvenate your fitness program.
Control the Speed of Contraction
You can control the speed of your muscular contractions to create a strength training workout or power workout. If you perform a power workout, you will be pulling the Crossbox Power Sled / Dog sled as hard as you can with good form to get it to slide on the ground as far as possible. If you are going for strength you will use heavier weights and perform slow contractions.