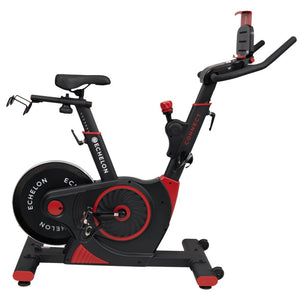 Product Description
Jumpstart your training with Echelon EX3 indoor cycle. Bring one of the ultimate fat burning workouts right into the comfort of your workout room. Enjoy the Spin class experience with the Echelon EX3 Indoor Cycle.
The EX3 boasts a fantastic array of features including a competition level seat with 6" lever-style adjustments, a heavy 13kg flywheel, 32 levels of magnetic resistance, and a newly designed motor that when all combined provide you with one of the smoothest riding experiences around.
It also includes a durable powder-coated frame that supports users of up to 300 lbs, multi-position handlebars and a set of versatile aluminum pedals that can be used with either regular or clip-in cycling shoes. Paired with the Echelon Fit app, you'll have access to virtual workouts with top-class trainers.* A one-year subscription to Echelon's FitPass is now included with every purchase.
Your health is important. Spinning is an exciting and healthy way to stay in shape. With an array of health benefits including improved cardiovascular health, burning calories, toning and strengthening muscles, and improved endurance, it's no wonder why it has become so popular. Spinning is also a low impact workout, making it perfect for rehabbing injuries and strengthening the surrounding muscles. As you Spin, you will also notice your core strengthening and toning. This happens from the natural rhythm your upper body creates as you move on the bike. Best of all, you can enjoy all these benefits in the comfort of your own home.